Hello Gz Clubers ..
I just want to remind you of the Friend/Foes system.
When you check someones profile you will find this;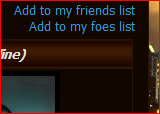 To add him as a friend; Click
add to my friend list.
Your friends are shown in your profile;
Pc(s); You friends can see you even if you're in the hidden mode. In the other hand, people you add to your foes list cant see you.
---------------